Last time, I published an article on the introduction of Data Center Virtualization fundamentals. The second module continues here on this blog post which will cover part of the VMware vSphere 6.0. This module focuss on the power of virtualization to transform data centers into simplified cloud computing infrastructures and enable IT organizations to deliver flexible and reliable IT services. Part 1 will cover the following:
vSphere 6.0 – Overview
vSphere 6.0 – Architechture
Topology of vSphere 6.0 Data Center
vSphere 6.0 – configuration maximums
vSphere 6.0 – Overview
It manages large collection of infrastructure such as compute, storage and networking as a seamless operating and dynamic environment. vSphere is composed of vCenter server, infrastructure services, application services and clients.
vCenter server – It provides a single point of control for vSphere data center. It provides essential data center services such as access control, performance monitoring and configuration.
Infrastructure services – set of services provided to abstracts, aggregates and allocates hardware or infrastructure resources. It is categorized into compute, storage and network.
Application services – set of services provided to ensure availability, security and scalability of applications. Examples are High Availability and vMotion.
Clients – The vSphere client and vSphere web client are the interfaces that allow users to communicate with the vSphere data center.
vSphere 6.0 – Architechture
vSphere 6.0 represent the core of the SDDC – software defined data center by virtualizing the entire infrastructure servers, storage and network. This is group into simple and unified manageable sets of elements.
Infrastructure services such as compute, storage and network will abstract, allocate and Aggregate hardware or infrastructure resources.

vSphere makes infrastructure resources resilient with features like high availability, fault tolerance, vMotion, storage Vmotion and DRS

Management layer or vSphere 6.0 consist of the vCenter server and vRealize operations.

The interface layer of vSphere 6.0 is composed of the vSphere web client that allows user to access the data center.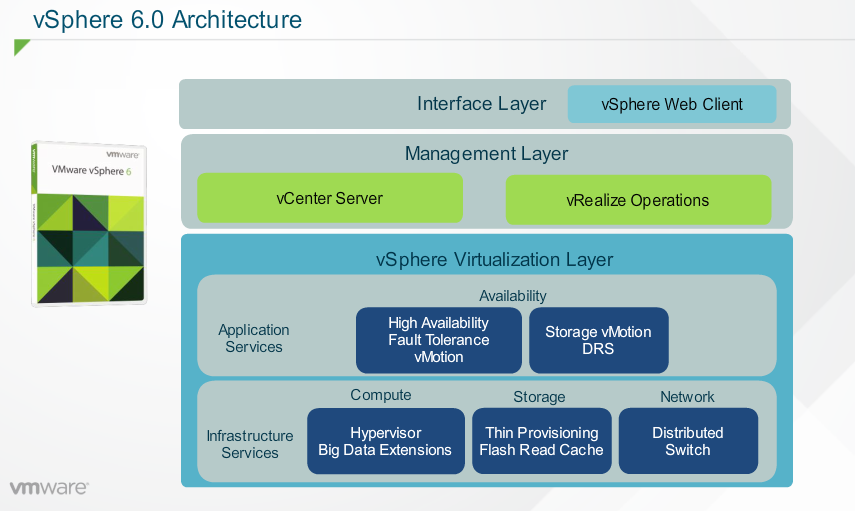 Topology of vSphere 6.0 Data Center
Using vSphere 6.0, administrators can simplifies management of their data center by creating Virtual Data Center (VDC) as a highly available, resilient and On-demand infrastructure that is ideal for cloud environments. It includes components to perform the following functions:
Compute – In vsphere 6.0, clusters can scale up to many as 64 hosts and support 8000 virtual machines in a single cluster. There is also expanded support for the latest x86 chip sets, devices, drivers, guest operating systems.
Storage – Fibre Channel Storage Area Network (FCSAN) arrays, Internet Small Computer System Interface (ISCSI) and Network Attached Storage (NAS) arrays are widely used storage technologies supported by vSphere 6.0 to meet different data center storage needs. Storage policy based management (SPBM) allows common management across storage tiers and dynamic storage classes of service automation. They enable exact combinations of data services (such as clones and snapshots) to be instantiated more efficiently on a per virtual machine basis.
Networking – It supports Network I/O control and multicast snooping. vSphere allows dedicated networking stack and simplifies IP address management with a dedicated default gateway for vMotion traffic.

Availability – Enhanced vMotion capabilities allow non-disruptive live migration of workloads across distributed switches and vCenter servers and provide a saving up to 95% in time and resources. There is also expanded support for software-based fault tolerance for workloads with up to 4 virtual CPUs

Management – vSphere 6.0 provides several interfaces such as vSphere content library and vSphere web client for data center management and virtual machine access. Administrators can used vRealize automation to accelerate the deployment and management of applications and compute services, thereby improving business agility and operational efficiency. For operations management, administrators can use vRealize operations that delivers intelligent operations management across physical, virtual and cloud infrastructures
vSphere 6.0 configuration maximums
vSphere 6.0 clusters can now scale to support more than 64 hosts with 8000 virtual machines in a single cluster.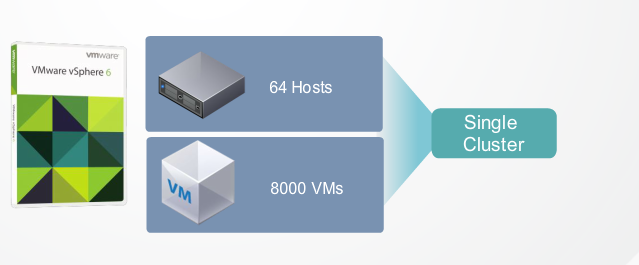 Each vSphere 6.0 instance can support as many as 480 PHYSICAL CPUs, 12 TB of RAMs and 2048 VMs per host.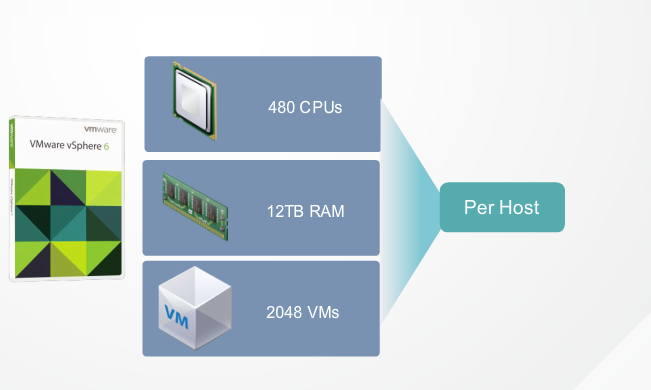 PS: All of these materials are available freely on the VMware website which i made a resume to have a picture of what is being introduced in this module.