The VMware Data Center Virtualization course which is freely available on the VMware website provides fundamental understanding of VMware 's Data Center Virtualization products. It covers features and components of vSphere 6.0, explain the need for Data Center Virtualization and explain how business  can solve challenges with regard to Data Center Virtualization. Though on the VMware website the course is freely available, i decided to create a post to keep track my own future references. The free course available on the VMware website is composed of three modules which covers an introduction, VMware vSphere components and vSphere solutions to Data Center challenges. The aim of this blog post is to gather maximum interesting main points which will cover the Data Center Virtualization exam.

Virtualization: An overview
Virtualization is the process of creating virtual versions of physical components such as servers, storage devices and network devices. With virtualization, you can run multiple operating systems and applications to be run on a single server and consolidates hardware to get higher productivity from fewer servers. Virtualization can be done at all levels.
[google_ad data_ad_slot=" data_ad_format='rectangle']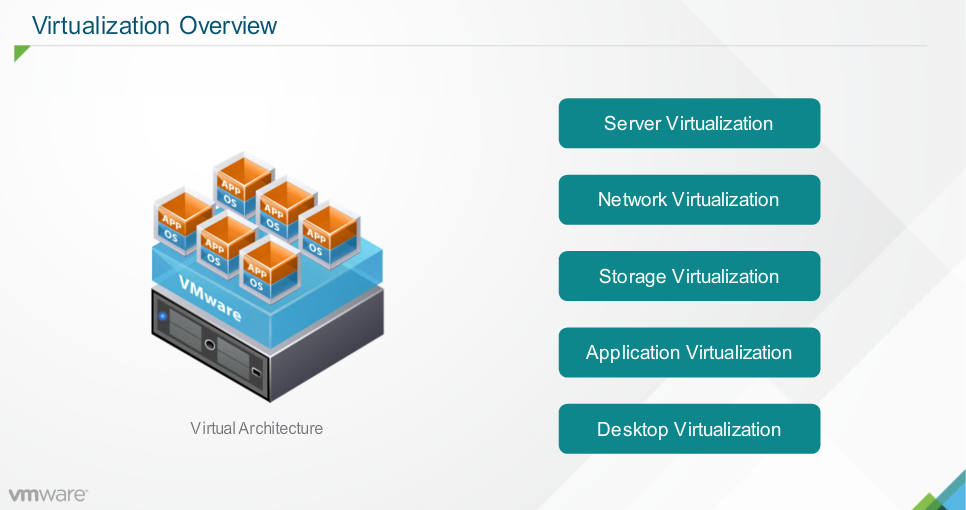 Virtualization: The foundation of Cloud Computing
Virtualization powers cloud computing and helps delivers on its potential by virtualizing, consolidating and automating your data center resources and management. VMware offers several products and service that allows you to do just that. For example
VMware vRealize Suite – is a cloud management platform purposely built for heterogeneous data centers and hybrid cloud and allows you to automate the delivery of infrastructure and applications across multiple hypervisor private and public cloud with both speed and control
VMware vSphere – is the server virtualization platform provides a robust API that simplifies infrastructure management for administrators and integrates with OpenStack APIs that enable developers to manage and run OpenStack infrastructure.
Big Data Extension (BDE) – BDE can be used on the vSphere platform to deliver a new level of efficiency and agility in handling data workloads and it supports next generation application framework such as Hadoop. BDE provides a set of management tools to deploy, run, and manage Hadoop workloads in virtual and cloud environments.
[google_ad data_ad_slot=" data_ad_format='rectangle']
Data Center Virtualization
It is the conversion of the hardware devices in a data center into software resources. Virtualization softwares enable several operating system to run on one  physical host. Here are the benefits of Data Center Virtualization:
Reduce Capital and Operating Costs – Server consolidation allows you to get more out of your existing hardware by running multiple machines on a single physical server. Fewer servers result in lower capital and operating costs.
Deliver High Application Availability – Availability and high tolerance features are an integral part of Data Center Virtualization tools and help protect all your virtualized applications. Using this feature, if a node or a server fails, all of its virtual machines are automatically restarted or continued on another machine, with no downtime or data loss.
Improve business continuity – Virtualization makes it easier to survive potential IT disasters, where one virtual machine can be moved to one location to another different location without data loss.
Increase productivity – Streamlined and automated task allows you to spend less time on maintenance and more time on innovation.
Improve responsiveness – Virtualization lets your business scale rapidly because you can deploy desktops, applications and servers quickly and flexibly.
[google_ad data_ad_slot=" data_ad_format='rectangle']
Virtual Machines, its capabilities and benefits
In brief, a virtual machine is a tightly isolated software container with its own virtual hardware, a guest operating system and one or more applications. It is also a collection of virtualized hardware resources that constitute a physical computer on a native environment. Virtual machines share the hardware of the physical server on which they are mounted. It allows you to quickly replace or upgrade components. It allows you to add components without rebooting the virtual machine.
Virtualization helps organizations to increase their data center availability whether as a protection schemes as common hardware failures or complete site-level disaster. Virtual machines are easy to move, copy and restore which makes disaster recovery simple. Snapshots features enable administrators to capture the entire state of a running machine. There are also other features such as restoration from bare-metal backup, hot add virtual hardware when upgrading.
Here are three benefits of using virtual machines:
Multiple applications on each host : As each virtual machine encapsulates an entire machine, many applications and operating systems can run on a single host at the same time.
Machine host utilization, minimum host count : Every physical machine is used to its full capacity, allowing you to significantly reduce costs by deploying fewer server overall.
Faster and easier provisioning of applications and resources : As self contained software files, virtual machine can be manipulated with copy and paste ease. Virtual machine can even be transferred from one physical server to another while running, via a process called live migration or better knows as vMotion. You can also virtualize business-critical applications to reduce cost and increase performance, reliability and scalability.
[google_ad data_ad_slot=" data_ad_format='rectangle']
The hypervisor and the ESXi hypervisor
A hypervisor provides the virtual hardware and physical resources on which you can create virtual machines. It is managed by vCenter server and is installed on the server to allow multiple, unique and isolated virtual machine to run on the same physical server. There are two types of hypervisor:
Bare metal hypervisor – It is installed on a physical device without an operating systems. They perform the functions of an operating system and have resource management capabilities. Example is VMware ESXi. Data Center Virtualization is typically performed using bare metal hypervisors because the dependency on another operating system is low. There is also less resource overhead as these hypervisors perform both roles.
Hosted hypervisor – Operate as an application on top of pre-existing operating system. The separation of roles can be helpful if the underlying hardware is not supported by  a bare metal hypervisor. Example is VMware workstation.
The ESXi hypervisor is a bare metal hypervisor that performs resource management while directly accessing the underlying physical hardware. It improves resource efficiency because of low operating system overhead. ESXi is not dependant on other operating system. ESXi hosts virtual machine provides management functions to help, deploy and control them.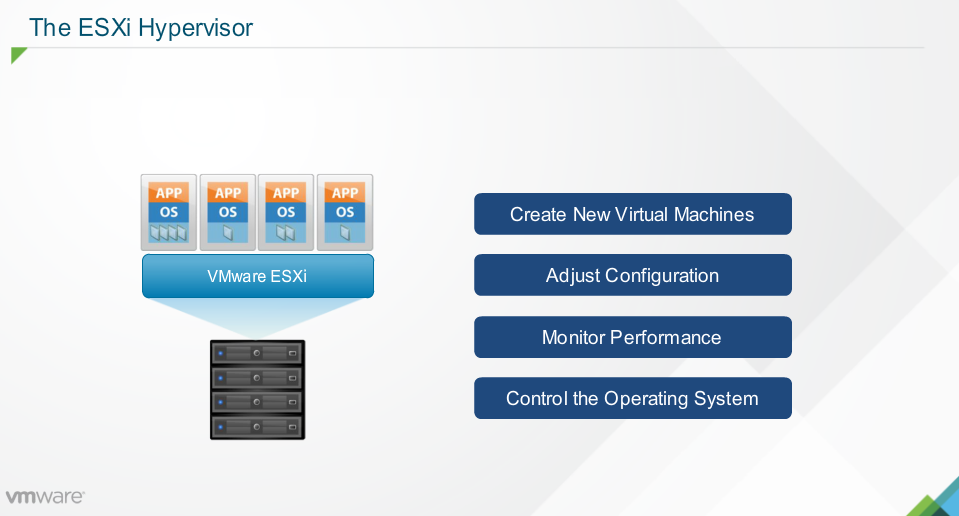 ESXI is commonly installed directly on hard drives of the physical server, in flash drives, SD cards and USB drives. Network boot is also possible using PXE or TFTP servers.
[google_ad data_ad_slot=" data_ad_format='rectangle']
VMware vSphere 6.0, its capabilities and benefits.
vSphere 6.0 empower users to virtualize scale-up and scale-out applications with confidence predefined availability and simplifies the data center. The result will provide a high availability, resilient and on-demand infrastructure. It drives down data center costs, increases system and application uptime, simplify the way IT runs the data center. It is purposely built for next generation applications and serves as the core foundation block for SDDC (Software Defined Data Center).
The capabilities of vSphere 6.0 are that it delivers enhances scale, performance and availability to enables you to easily virtualized applications. You can simplifies virtual data center management to manage the creation, sharing, deployment and migration of virtual machine with powerful and simple tools.It provides the capabilities to perform live workload migration.It provides the capabilities to data center maintenance with zero downtime. It also allows you to transform storage for virtual machines by enabling external storage arrays to operate in a more virtual machine centric manner. You can also built and operate cloud environment with VMware stack or open source frameworks such as OpenStack or the VMware integrated stack addon. vSphere is available in three editions i.e; Standard, Enterprise and Enterprise Plus editions.
Some benefits of vSphere 6.0 are that is improves efficiency through utilization and automation, maximise uptime in cloud infrastructure, reduces on planned downtime. It lowers IT costs by reducing capital expenditure by 70% and operational expenditure by 30%. vSphere 6.0 provides agility with control and allows quick response to changing business needs without sacrificing security. You can also use a common standard based platform to leverage existing IT assets alongside next generation IT services and enhanced vSphere through open API with solution from global eco systems of leading technology providers. It helps several organizations to address challenges related to availability, scalability, optimization, management, application upgrade and cloud challenges.
PS: All of these materials are available freely on the VMware website which i made a resume to have a picture of what is being introduced in this module.The second module is related to the components of VMware vSphere 6.0